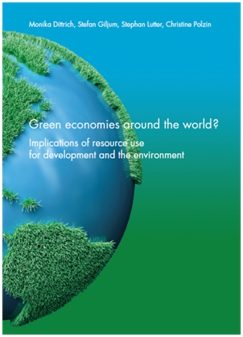 SERIs kürzlich veröffentlichter Bericht "Green economies around the world?," in welchem Ressourcenverbrauch und Ressourceneffizienz aller Länder der  Welt untersucht werden, erreicht ein buntes und breites Publikum und erhält viel Aufmerksamkeit in der Nachhaltigkeitsszene Europas und darüber hinaus. Die Ergebnisse der SERI-Studie sowie das Konzept der absoluten Entkopplung des Ressourcenverbrauchs vom Wirtschaftswachstum wurden kürzlich im Blog "Make Wealth History" diskutiert. Dieser Blog hat viel mit einem von SERI's Kernzielen gemeinsam – nämlich das Finden von Möglichkeiten, wie der westliche Lebensstil, der momentan wirtschaftlich, ökologisch und sozial unnachhaltig ist, weniger schädlich werden kann.
Die Hoffnung besteht, dass die Vision, die Ressourcen unserer Welt gerechter zu verteilen sowie unseren übermäßigen Verbrauch zu reduzieren, weiterhin verbreitet wird und dass auf allen Ebenen – von Regierungen bis hin zu einzelnen BürgerInnen – auf diese Vision hingearbeitet wird.
Den Blog-Beitrag können Sie sich hier ansehen (auf Englisch).
Die Studie "Green economies around the world?" kann hier heruntergeladen werden.