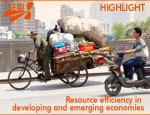 SERI´s research group "Sustainable Resource Use" investigates the use of natural resources on which our societies are built. Some of the central concerns in this field include differences in extraction, consumption, trade and efficiency across different countries and world regions.
The basis of much of our work in this field is the website www.materialflows.net, an online portal for material flow data providing easy access to global data on resource extraction for more than 200 countries and the time period of 1980 to 2008, aggregated into 12 categories of material flows. The website is based on the first comprehensive and worldwide database on global resource extraction, set up and administrated by SERI in cooperation with the Wuppertal Institute for Climate, Environment, Energy.
In 2011, we began to improve the material flows database by adding data on physical trade flows around the world. For this critical endeavour we collaborate with Monika Dittrich, an expert in the field of "global physical trade". As a result of this collaboration, we have been able to conduct and publish a series of studies on different aspects of resource use (material extraction, consumption and trade) and resource efficiency at the national and regional level in Africa, Asia, the Emerging Economies, as well as Central and Eastern Europe and the Newly Independent States. In those studies we are able to investigate the trends over the past three decades (1980-2008). Also, we plan to incorporate these trade data into the website www.materialflows.net.
Resource use and resource efficiency have become key topics of concern around the world. Resource efficiency is one of the main pillars of industrial efforts to tackle increasing resource prices and competition for scarce resources. It can also help to tackle environmental degradation and climate change, which are largely caused by our current (over)consumption of resources. The studies may lend credit to the implementation of policies as well as regulatory and institutional frameworks to make industries more resource efficient and less carbon intensive.
Resource Use and Resource Efficiency: some general facts
Today, the world economy extracts more materials resources than ever before in human history. Global material extraction has grown by almost 80% over the past 30 years and is around 70 billion tonnes.
On average, each human being consumed 10 tonnes of materials in 2008, 1.6 tonnes more than in 1980.
Material use has changed in all regions, but the most diverse and dynamic world region by far is Asia. Asia extracts, exports, imports and consumes around half of all globally extracted, traded and consumed materials.
Never before in history has a similar amount of commodities been traded around the world. Trade volume in physical terms has increased by a factor of 2.5 over the past 30 years.
The "big five" – China, the United States, India, Brazil and the Russian Federation use more than half of all globally consumed materials.
The world economy achieved a significant de-coupling between economic growth and material use in the past 30 years; today, around one third less materials are needed to produce one unit of world GDP. However, due to the rapid expansion of production and consumption, this relative efficiency gains were overcompensated by economic growth.
Resource Use and Resource Efficiency in Asia
Resource Use and Resource Efficiency in Emerging Economies
Resource Use and Resource Efficiency in Central and Eastern Europe and the Newly Independent States
Resource Use and Resource Efficiency in Africa
Outlook to global study "Green economies around the world?"
In cooperation with Monika Dittrich, SERI is currently preparing a new, global study on resource use and resource efficiency to be presented in the context of Rio+20. This report will reveal, for the first time, data on resource use and resource efficiency for all countries worldwide in the period of 1980-2008. The data covers the global, continental and country levels and will feature illustrative case studies.
Links and further information