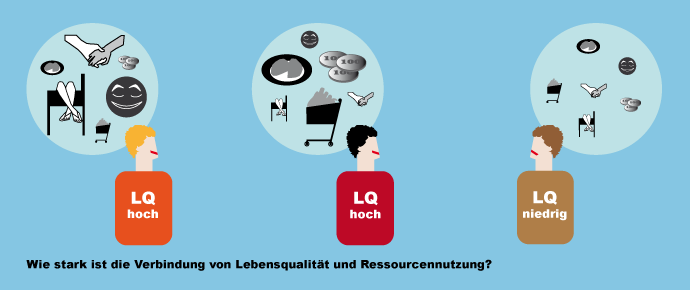 Quality of Life
What makes up a good life? How strong is the connection between quality of life and resource use? How does the quality of our lives change in the face of global transformations? What are the tensions and synergies between quality of life and sustainability?
In our culture a 'good life' is mainly associated with the accumulation of material goods – an approach, which is not only environmentally unsustainable but which does not even lead to happiness of long duration. Numerous studies have clearly shown that subjective well-being and material wealth are only loosely coupled. That is to say, immaterial factors which contribute to our quality of life –such as leisure, having meaning and purpose, relationships, social participation and self-fulfilment – become more and more important. The research area 'Sustainable Quality of Life' aims at pointing out these positive relations between sustainable development and high quality of life. If sustainable development policies and strategies want to be successful, they have to influence our quality of life in positive ways.
Our research integrates and emphasises the subject 'quality of life' in the context of sustainability. We investigate current trends and work out integrated concepts on how to increase sustainability AND quality of life at the same time. We want to spark debates in Austria and in the EU. But we also  support local and regional decision-making processes, reflections of individual life plans and changes in societal values.
News

" class="wp-smiley" /> Blog

Publications

People

Projects

Partners

Ernst Gehmacher
Michael Fleischmann
Robert Prazak