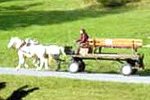 A Region on its Way to Itself
SERI and project partners consulted the middle region of Lower Austria to elaborate a strategy for the region "on its way to itself". The region seeked to think about predominant megatrends and their influences on the region, in order to find a way that optimally fits to the qualities and requirements of the region.
SERI, in cooperation with Harald Hutterer from Karuna Consult, Michael Fleischmann, from the regional consulting bureau "Raum-Region-Mensch-Organisation", and Rita Trattnigg, supported the region by starting a participatory process aiming at identifing the region's qualities and possibilites to achieve well-being for its habitants.
The process included three workshops with regional stakeholders to work on
1) megatrends that affect the region NÖ-Mitte (like health & selfness, children & teenagers, education & training)
2) qualities and attitudes that shall be highly valued in the region (like openess, regional identification)
3) projects that are build upon the megatrends and take the qualities and attitudes into account.
SERI was commissioned by the regional management "NÖ Mitte" and the government of Lower Austria (department of regional politics).
Contact
Project partners
Client
Regionaler Entwicklungsverband Niederösterreich Mitte and Amt der NÖ Landesregierung, Abteilung RU2
Related themes
Related projects