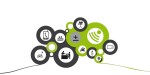 From June 30th to July 1st, the "GreenID Exchange Forum on Sustainable Information Design" took place in Vienna. A group of information designers, graphic designers, artists, ecodesigners, communication researchers and environmental psychologists from Europe, South America and the US came together in order to discuss the possibilities of information design as a means of spreading knowledge of issues of sustainable development. Information design is a form of communication which is not very common in Austria yet. It aims to create an understanding of complex issues using visual techniques, such as graphic design, illustration or film. Daniela Pock held a presentation "live from our SERI-factory" – on how we communicate issues of sustainability, such as the environmental indicators.
The GreenID exchange forum was organised by the International Institute for Information Design (IIID). It took place in the historical rooms of the Vienna Workshop in the seventh district of Vienna. A further exchange forum is planned for 2013 – by the time, the repeating forums will create an international network of information designers.
Here you can find the presentation of Daniela Pock.