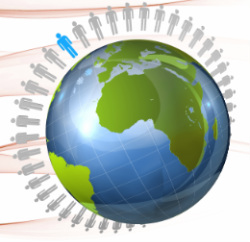 This year's congress of the Institute for Future Competences (IFZ) took place from 11 to 13 june in Ossiach, Carinthia. The event title was "Region is future – open thinking spaces for new entrepreneurship". Besides numerous other well-known experts, SERI researchers Fritz Hinterberger and Ines Omann took part at the congress.
In his keynote speech, Fritz Hinterberger talked about how individuals and the society as a whole can get "from overkill to joy of life".
An average European uses 40 kg of resources a day, which causes that more than 100 kg of nature have to be moved. Loosely speaking, every Euro moves 1 kg of nature. Reducing our resource use drastically needn't mean constraint and renunciation, but it makes room for a healthier life with less stress and more time for the "uneconomic" aspects of life (such as watching the European football championship).
In order to mobilise the general public in this matter, networking among different sustainability initiatives (regarding environment, poverty, education, development) and a language which is understandable for ordinary people are necessary.
Ines Omann presented the LebensKlima project (lebensklima.at) which prepares and supports a transition towards more sustainability and higher quality of life in Finkenstein. Citizens as well as politicians are involved in the process. Afterwards, Ines Omann moderated a workshop dealing with "Change towards regional sustainability – from inside out". Thereby, she applied the THANCS method which allows to solve value conflicts which occur during sustainable action by analysing the needs level.
You can find further information on the congress here.