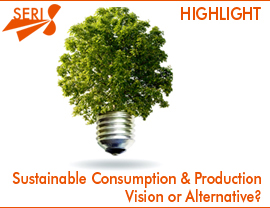 Mankind's demand for natural resources is increasing at an accelerating speed. The functionality of the planet's ecosystems is in danger with global environmental problems such as climate change, pollution and desertification rising, caused by the current unsustainable production and consumption patterns and the related resource use. On the other hand, green and fair products are increasingly demanded by consumers.
Companies that implement an environmental management system and hence verifiably contribute to the reduction of the negative environmental impacts can expect a competitive advantage. New consumption styles are emerging (keyword: LOHAS), consumers want to be informed about the environmental effects of a potentially bought product in advance and want to make decisions based on objectively calculated criteria. But is producing and buying green products enough to trackle global problems? Perhaps not, but it is supposed to be the first step towards a sustainable economy.
What does Sustainable Consumption and Production mean?
Sustainable consumption and production (SCP) looks holistically at systems of production and consumption and finds out how these systems can be transformed to reduce their environmental impacts. In this concept, consumption is understood as resource consumption in the broadest sense. This includes consumption by industries, public consumption and household consumption. SCP involves reviewing current lifestyles critically and examining alternative modes of consumption, challenging the paradigm of progressive growth.
SCP acknowledges the influence of consumer demand on the production of goods. If production is sustainable the environment, employees, communities and organizations benefit. Sustainable products are less resource consuming, have less environmental impacts or are less destructive for the people producing them (Lorek, 2009). These circumstances lead to economically viable and efficient enterprises since a reduction of energy and material input not only reduces negative effects on the environment without affecting the quality or the usability of a product but as well in the majority of cases reduces costs.
What exactly is SERI doing?
SERI's group on Sustainable Consumption and Production applies various methods within its projects. The most common ones are product and company analyses via quantitative sustainability indicators. These indicators are used to structure, implement and assess the performance of the investigated product (The term "product" refers to physical goods as well as services). The entire product life cycle – starting at the resource extraction over the various production steps up to the use and disposal – has to be examined in order to evaluate the sustainability of goods and services. Therefore, SERI's set of indicators quantifies the consumption of (renewable and non-renewable) materials, water, land and the released greenhouse gas emissions.
Considering all these categories supports the monitoring of intermedial tradeoffs and therefore, all actions can be brought into line with a holistic approach to sustainability. Hence it represents a feasible and comprehensive measuring instrument regarding the environmental impact of a product, a service, a (part of a) company or a whole sector.
Download: SERI-Briefing Sheet – Sustainable Consumption and Production
Download: SERI-Briefing Sheet – SERI's set of indicators
The possible contribution of the society
Our society has to reduce material, energy and water consumption in addition to putting focus on efficiency (of consumption goods). Therefore, all different actors of our society play a part in the transition to a more sustainable world. While companies are advised to focus life-cycle wide thinking, the consumer can contribute by buying products in a conscious and sustainable way (may it be food, electronics, clothes or any service). Critically reflecting personal consumption patterns is as important as thinking in service units (by units of usage) and thus buying and using products conjointly. Politics need to set up the legal framework and act as role model whereas scientists have to deliver profound answers to the questions society has for them in order to ensure sustainable development.
The contribution of SERI
On the basis of environmental indicator assessments as well as on qualitative aspects, the SCP group conducts strategic consulting for companies, CSOs and policy makers that wish to reduce their resource use and ecological impacts of production and consumption.
SERI's SCP group is dedicated to different fields, corresponding to the expertise of its employees. The main fields are agriculture and nutrition, forestry and renewable resources, traffic and mobility, construction and living and IT and communication services.
An exemplary overview of product analyses results conducted by SERI's SCP group: (rounded numbers)
The numbers above with 0 are results lower than 1.
Here you can download a more comprehensive list of products analyzed by SERI's SCP group.
Here is a short overview of some projects and further links:
Network Footprint
SERI is a member of Netzwerk Footrint (Network Footprint) which connects Austrian stakeholders from academia and practitioners. The idea is to unify the appearance and to support the development of footprinting in theoretical and practical aspects.
ECR – Measurement and Assessment of Product's Quality of Sustainability
Since summer 2007, SERI has consulted the initiative ECR Austria—a cooperation platform dealing with the optimization of the whole value chain in order to serve consumers better, quicker and at lower costs—on sustainability issues with the target of developing a feasible and consistent methodological standard for sustainability measuring and communication.
Ecological Sustainability SPAR
Since September 2008, SERI advises SPAR Austria on their way to a further improvement of the sustainability in the company. To identify the status quo of the ecological sustainability of selected company's divisions – building, transport, meat and store brand products, a more comprehensive set of indicators based on the concept of the Ecological Rucksack was used. Following the results of the status quo analyses possible measures to improve the resource efficiency were identified by means of hot-spot analyses in close co-operation with intra company experts of SPAR Austria.
SPAR Pork meat
Another project SERI conducted for Spar was an analysis of different pork production modes, namely conventional, organic and Gustino Stroh. The objective was to analyze each mode, to develop different scenarios to reduce resource consumption and to compare the different modes among each other in order to deduce best practices.
Ecological Footprint IT – EcoFIT
In cooperation with Siemens IT Solutions and Services (Austria) and Plattform Footprint, SERI conducted the calculation, analysis and presentation of the Ecological Footprint of the IT business organisation of Siemens in the subsidiary Austria (Siemens IT Solutions and Services). In addition the method was further developed for a general application in the IT industry.
www.seri.at/ecofit and www.seri.at/ecofit2
Ecological Footprint of the raw material producing industry in Austria
In cooperation with WWF Austria and the Forum of Mineral Raw-materials of the Austrian Federal Economic Chamber, SERI calculated the Ecological Footprint of the raw material producing industry at branch level and adjusted the footprint concept to the special requirements of this industry. The application of the Ecological Footprint concept to the raw-material producing industry was a methodological innovation.
Sustainable fruits and vegetables
In 2008, REWE, the biggest food retailer group in Austria, started to develop a forward-looking and practicable method to assess the social and ecological sustainability of fruits and vegetables and to promote sustainable products with an eco-lable. SERI since then serves as scientific consultant in the developing process of this method and has analysed a big range of food products as well as packaging systems, distribution and energy supply alternatives.
Green Brands
In 2010, SERI carried out the scientific guidance for the development of the GREEN BRANDS process. The GREEN BRANDS award / Certificate honors brands, products, services, business initiatives/campaigns, and individuals being especially aware of their environmental responsibility. Therefore, criteria catalogues for companies and products have been elaborated in cooperation with ALLPLAN.
EVES
Private consumption is associated with a substantial amount of energy use and GHG emissions, all above in the areas of passenger and freight traffic. EVES develops a model of individual shopping decisions – from the choice of product and shopping situation to the travel decision and actual act of shopping. Hence, EVES identifies the factors which affect energy use und shows how it can be reduced by purposefully applied policies and personal action.